gpsrb
This is a Mac OS X application for viewing GPX files that contain
geocaching.com information. It interfaces with
gpsbabel for waypoint upload to Garmin
GPS receivers.
It is mainly useful for processing the 'Pocket Query' GPX files available
with the paid-for geocaching.com membership. These files contain a snapshot
of the cache details for offline viewing.
Since I'm in the UK, the program is currently geared slightly towards
the coordinate system in use there.
Screenshots
The main entry window. The lower-right shows different coordinate representations
that can be copied to the clipboard.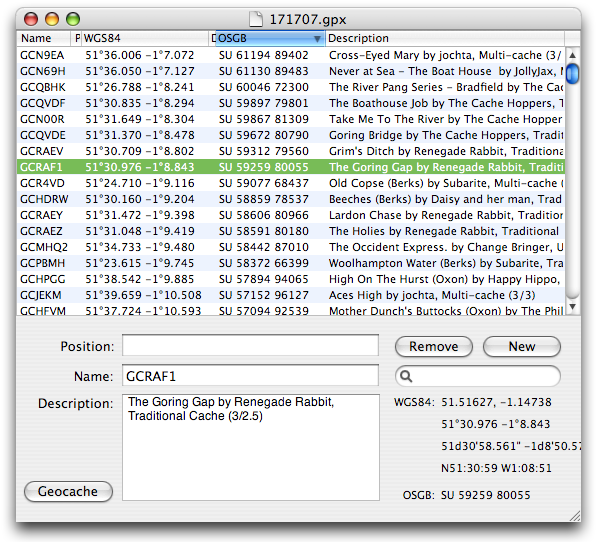 The Geocache info window. Links take you to the geocaching.com website. The hints
may be decoded by pressing the button. Recent logged visits are also shown.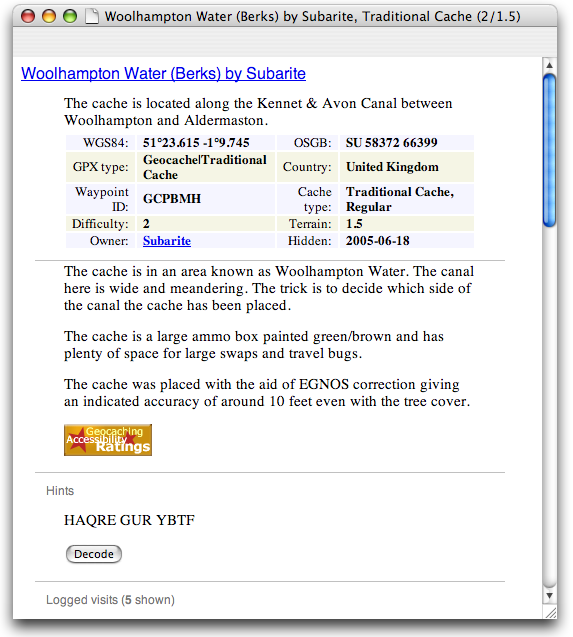 Status
This program is a work-in-progress. It works well enough for my needs,
but still requires some polishing to be more generally useful. If you're interested
in helping out, please get in touch.
Obtaining
This program is mainly developed in the Ruby scripting language in conjunction
with RubyCocoa for producing a Mac OS X GUI application.
I haven't yet had the opportunity to properly package the application and make the source code reasonable for public consumption. Please get in touch if you're interested and I'll try to look into it further.